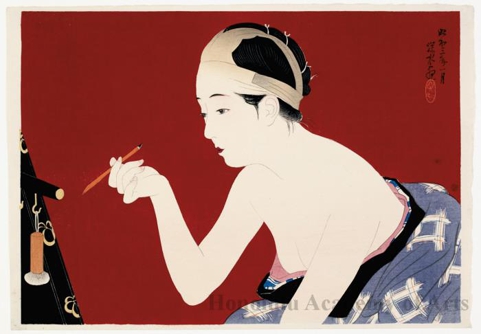 Object Title:
Eyebrow Pencil
Date:
1928
Artist:
Itö Shinsui
Carver:
Unknown (Japanese Art)
Printer:
Unknown (Japanese Art)
Publisher:
Watanabe Shözaburö / S. Watanabe Color Print Co.
Medium:
Color woodblock print Technique: Nishiki-e (Woodblock print with color blocks)
Dimensions:
11 x 15 3/4 in. (28 x 40 cm)
Credit Line:
Gift of James A. Michener, 1984 (19293)
Object Number:
19293
Other Title:
Kana: まゆずみ Kanji : 眉墨
Description:
Itö Shinsui is known as the Utamaro (the most famous ukiyo-e master of pictures of beautiful women) of modern times. As seen in this print, Shinsui depicts many bust portraits of women in traditional kimonos and hairstyles. In this print, a geisha is drawing her eyebrows with a brush in front of a mirror, a theme often used in ukiyo-e. However, the sense of volume in her face and body, and the bold rouge color, a synthetic color originally imported from the West, give a new and modern atmosphere to the print.
---