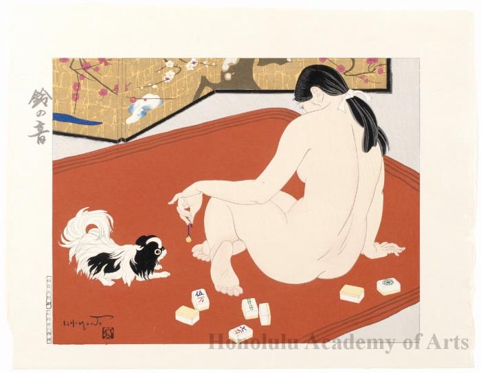 Object Title:
The Sound of the Bell
Series Title:
Ten Types of Female Nudes
Date:
1964 - 1966
Artist:
Ishikawa Toraji
Carver:
Yamagishi Kazue
Printer:
Matsuzaki Keisaburö
Medium:
Color woodblock print Technique: Nishiki-e (Woodblock print with color blocks)
Credit Line:
Gift of Richard Miles, 1997 (26334)
Object Number:
26334
Other Title:
Kanji : 鈴の音
Description:
This print depicts a nude woman playing with a Pekinese dog. Sitting on a red rug, in front of a Japanese screen, she uses a small bell to get the dog's attention. The use of the flat red color and elevated viewpoint are traditional Japanese painting methods. In the Japan & Paris exhibition, there is a painting called Scarlet Rug (1932) by Mitsutani Kunishirö (1874-1936). The similarity between Mitsutani's painting and Toraji's print is remarkable. Ishikawa and Mitsutani were both taught by Koyama Shötarö (1857-1916), a Western-style painter. Also, both were involved in the Taiheiyö Gakai (an art organization focusing on Western-style painting and sculpture).
---