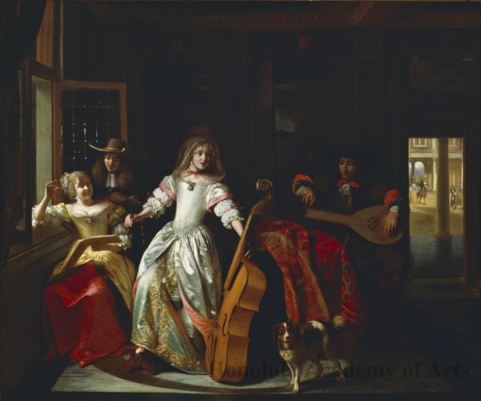 Object Title:
A Musical Conversation
Date:
1674
Artist:
Pieter de Hooch
Active:
Dutch, 1629 - 1684
Medium:
Oil on canvas
Dimensions:
38 5/8 x 45 1/4 in. (98.1 x 114.9 cm)
Credit Line:
Purchase, 1971 (3798.1)
Object Number:
3798.1
Description:
As the Low Countries of Europe merged into the Republic of the United Netherlands during the late 16th century, successful middle-class burghers became a new class of patrons of the arts. Proud of Dutch achievements, they supported the growth of a new pictorial tradition that celebrated their lifestyle. Landscapes, still lifes, portraits, and other everyday or genre subjects adorned their comfortable residences. A masterful technician and specialist in genre painting, Pieter de Hooch was influential in the development of domestic themes. Refined musical subjects were popular in 17th-century Dutch painting. Valuing such scenes as reflections of their own sophistication, the Dutch also often assigned a variety of metaphorical meanings to genre subjects. Concerts generally referred to harmony in family groups and among friends or intimate young couples. In this case, under the watchful eye of Venus, the classical goddess of love, the two couples prepare to commune through music.
---