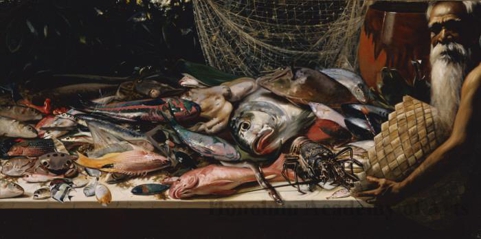 Object Title:
Study of Hawaiian Fish
Date:
1898
Artist:
Hubert Vos
Active:
American, 1855 - 1935
Medium:
Oil on canvas
Dimensions:
36 1/4 x 72 5/8 in. (92.1 x 184.5 cm)
Credit Line:
Gift of Robert and Deanna Levy, 1987 (5626.1)
Object Number:
5626.1
Description:
No doubt in reference to this depiction of a white-bearded Hawaiian fisherman spilling the bounty of the sea from his woven lauhala basket onto a table top, the Pacific Commercial Advertiser informed its readers on April 26, 1898, that: Hubert Vos is just now engaged in a large painting of Hawaiian Fishes represented in various positions on a marble slab. He has been particularly struck by the exquisite coloring of the members of the finny tribe to be found in Hawaiian waters. In painting this carefully detailed representation of fifty-seven varieties of fish and crustaceans Vos drew on the tradition of seventeenth-century Dutch still-life painting with which he must have been familiar from his childhood and studies in Europe. The myriad forms and colors are not fanciful imaginings but were carefully rendered from sketches of actual specimens purchased at the Honolulu fish market. Vos completed this impressive work by including a kou calabash and a draped net in the background.
---