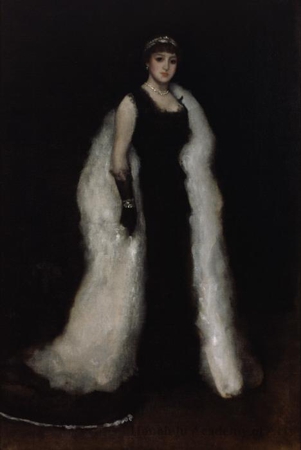 Object Title:
Arrangement in Black No. 5: Lady Meux
Date:
1881
Artist:
James McNeill Whistler
Active:
American, 1834 - 1903
Medium:
Oil on canvas
Dimensions:
76 1/2 x 51 1/4 in. (194.3 x 130.2 cm)
Credit Line:
Purchase, Acquisition Fund, funds from public solicitation, Memorial Fund, and Robert Allerton Fund, 1967 (3490.1)
Object Number:
3490.1
Description:
James McNeill Whistler was one of the foremost proponents of the Aesthetic movement in England where he worked and lived for most of his life. As an American expatriate, he provided an important link between the avant-garde of Europe and America, through his work as a painter and well-respected printmaker. Whistler was a bohemian and a dandy, friendly with the French impressionists and especially Oscar Wilde, who shared his philosophy that artists should live by a relaxed moral code, slightly apart from the public. A well-known British social figure, Valerie Susie Meux commissioned three portraits from Whistler. This portrait was exhibited at the Paris Salon of 1882 to an enthusiastic reception. Although one contemporary critic likened this depiction of Mrs. Meux to Venus, Whistler sought to depict more than her physical presence, concentrating instead on manipulating mood through color to create a composition which he likened to musical orchestration.
---