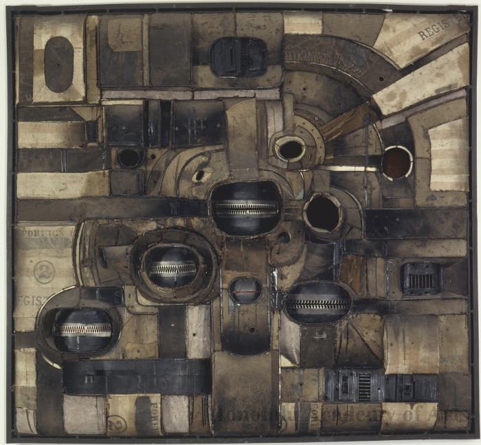 Object Title:
Untitled
Date:
1964
Artist:
Lee Bontecou
Active:
American, born 1931
Medium:
Welded steel, canvas, velvet hooks, grommets, sockets, velveteen, pipe fittings, fiberglass, corduroy, spark plugs, paint, and wire
Dimensions:
72 x 80 in. (182.9 x 203.2 cm)
Credit Line:
Purchase, 1968 (3545.1)
Object Number:
3545.1
Description:
Initially interested in a form of figurative abstraction, in the mid-1950s Lee Bontecou began building large-scale constructions made with canvas and other materials stretched over welded metal armatures. Toward the end of the decade, she began incorporating dark apertures of varying sizes to evoke unknown realms. Two fields of science in the late 1950s-clinical psychology and the exploration of outer space-are particularly resonant with Bontecou's work, for they deal with spheres of awareness, both interior and exterior, which she strives to synthesize in her art. Drawing out a range of emotions from the viewer, Bontecou's constructions elicit a sense of wonder and trepidation, desire and repulsion, and they address veiled aspects of human nature exposed by social and political conflict and war. Bontecou wishes to "glimpse some of the fear, hope, ugliness, beauty, and mystery that exists in all of us and which hangs over all the young people today."
---