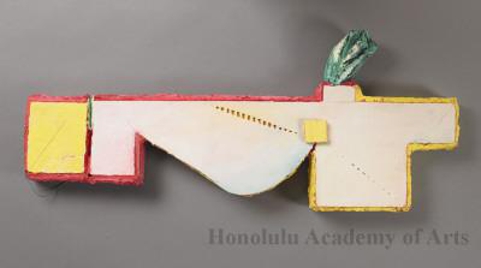 Object Title:
Long Horizoned
Date:
1981
Artist:
Don Hazlitt
Active:
American, born 1948
Medium:
Oil and papier-mâché on cardboard
Dimensions:
11 x 25 1/2 x 2 1/2 in. (27.9 x 64.8 x 6.4 cm)
Credit Line:
Gift of the Dorothy and Herbert Vogel Collection: Fifty Works for Fifty States, a joint initiative of the Trustees of the Dorothy and Herbert Vogel Collection and the National Gallery of Art, with generous support from the National Endowment for the Arts and the Institute for Museum and Library Services, 2009
Object Number:
31517
Description:
Don Hazlitt was born and educated in Northern California and is now chair of the MFA program at Molloy College in New York. From his cardboard constructions of the 1980s to his more recent cubist-inspired works, Hazlitt blurs the boundaries between painting, sculpture, and collage, for not only does he paint on shaped three-dimensional surfaces, but he also incorporates relief into the two-dimensionality of painting. The two works in the Academy's collection conjure with abstraction as a modern-art paradigm. The centralized rectilinear form in Peanuts #3, for example, quotes the rigid geometry of minimalism, even as its indistinct edges, slanted lines, and heavily wrought surface destabilize minimalism's prescribed anonymity by introducing the artist's hand. Long Horizoned, a collage of papier-mâché and heavily applied paint on corrugated cardboard, reveals the elaborate process of its construction and suggests a miniature landscape; in doing so, it undermines the hermeticism of the minimalist shaped canvas. As the inscription on verso of Long Horizoned indicates, it was a Christmas gift from Hazlitt "For Herb," testifying to the artist's friendship with the Vogels and their intimate engagement in his work.
---