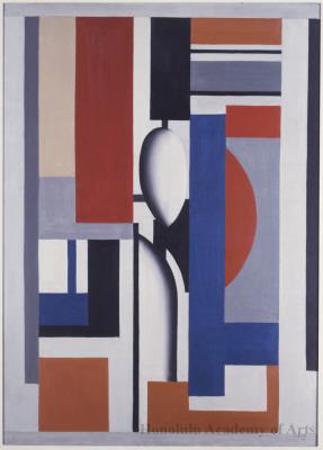 Object Title:
Abstraction
Date:
1926
Artist:
Fernand Léger
Active:
French, 1881 - 1955
Medium:
Oil on canvas
Dimensions:
51 1/4 x 36 1/2 in. (130.2 x 92.7 cm)
Credit Line:
Gift of Robert Allerton through Friends of the Academy, 1945 (311.1)
Object Number:
311.1
Description:
Ferdinand Léger had great confidence in modern technology, and he incorporated machinery parts and robotic human forms into complex compositions inspired by Cubism. This work, however, is one of the few truly nonrepresentational paintings in his oeuvre. In it, Léger has built up planes of color to suggest the flatness of a wall, even as he hints at a third dimension by allowing these rectangles to overlap. Space is further evoked in the white ovoid form in the center of the canvas and the curved shape below it, both of which seem to emerge from the shadows thanks to an unseen—and ambiguous—light source.
---