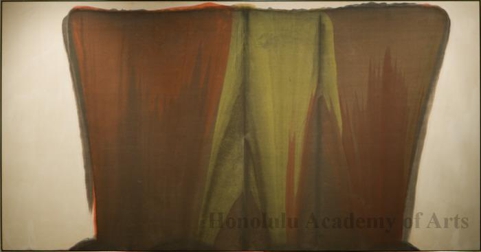 Object Title:
Turning
Date:
1958
Artist:
Morris Louis
Active:
American, 1912 - 1962
Medium:
Acrylic resin paint on canvas
Dimensions:
94 1/4 x 178 1/4 in. (239.4 x 452.8 cm)
Credit Line:
Purchase with Academy funds and funds from Academy Volunteers, 1971 (3997.1)
Object Number:
3997.1
Description:
In the mid-1950s, Morris Louis abandoned his early interests in easel painting and Cubism to lay his canvases, unstretched and unprimed, on the floor and pour onto them washes of acrylic paint. Over the next several years Lewis refined this distinctly personal approach to abstraction, painting numerous enormous canvases that are lyrical, even mystical, in mood. One in a series of paintings called Veils, this work is composed of plumes of rich earth tones, which are stained one over the other, wet on wet, and absorbed by the weave of the raw canvas. Dark reds, pale olives, and moss greens flow downwards, warmed by an underlying incandescent red-orange. The layered, or laminated, effect seems to shift before the viewer's eye. Louis was interested in "all-over" painting (later called "Color Field Painting"), which emphasizes the surface of the canvas and the validity of paint itself.
---