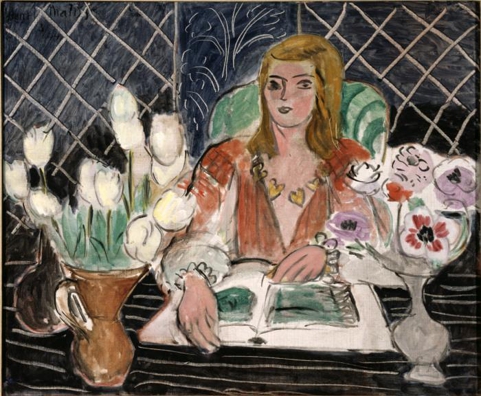 Object Title:
Annelies, White Tulips, and Anemones
Date:
1944
Artist:
Henri Matisse
Active:
French, 1869 - 1954
Medium:
Oil on canvas
Dimensions:
23 7/8 x 28 3/4 in. (60.6 x 73 cm)
Credit Line:
Gift of the Friends of the Academy, 1946 (376.1)
Object Number:
376.1
Description:
In Annelies, White Tulips, and Anemones, Henri Matisse has fabricated a private world of calm, repose, grace, and ease, domesticating the sensual and decorative pastoral themes of his earlier paintings. To create these sumptuous interiors, Matisse worked with a succession of favorite models; in this case, the sitter is Annelies, a young woman whom Matisse took on as a student. The luxurious and safe haven Matisse imagines in this work bears no hint of the turmoil in his personal life at the time: in the spring of 1944, his wife and daughter, who had been working for the French Resistance, were taken prisoner by the Nazis.
---