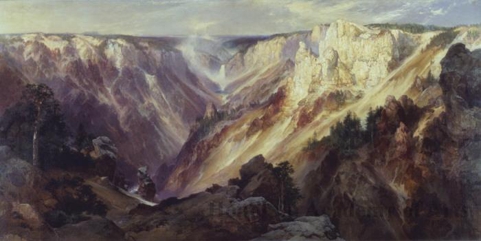 Object Title:
The Grand Canyon of the Yellowstone, Wyoming
Date:
1904
Artist:
Thomas Moran
Active:
American, 1837 - 1926
Medium:
Oil on canvas
Dimensions:
30 x 60 1/2 in. (76.2 x 153.7 cm)
Credit Line:
Gift of The Bank of Hawaii, 1970 (3701.1)
Object Number:
3701.1
Description:
Thomas Moran created a composition of awe-inspiring breadth and depth by positioning the viewer on the rim of the Grand Canyon of the Yellowstone, looking out over a thousand-foot-deep chasm to the distant lower falls. Although the artist completed several western journeys to sketch his subjects firsthand, this depiction of America's first national park is not dryly topographical. The artist's concern instead was to recreate the "stupendous and remarkable manifestations of nature's forces." Of special interest to the painter was the play of light on the canyon walls; Moran reportedly believed that its colors were "beyond the reach of human art." A late work in the nineteenth-century indigenous landscape tradition, the artist's view of Yellowstone celebrates the primeval wilderness of the American West.
---