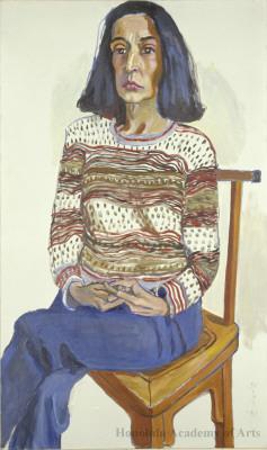 Object Title:
Marisol
Date:
1981
Artist:
Alice Neel
Active:
American, 1900 - 1984
Medium:
Oil on canvas
Dimensions:
39 3/4 x 25 7/8 in. (101 x 65.7 cm)
Credit Line:
Purchase, gifts of Clare Boothe Luce and Mr. and Mrs. Howard Wise, by exchange; Prisanlee and Robert Allerton Funds, 1988 (5717.1)
Object Number:
5717.1
Description:
At a time when realism was condemned by those interested in abstraction, Alice Neel was a determined realist who devoted herself to portraiture for over half a century. Depicting the faces and figures of family, friends, and acquaintances, she considered herself a collector of souls, the chronicler of the "neurotic, the mad, and the miserable" who make up what she called the human comedy. Not one to flatter or sentimentalize her subjects, Neel responded intuitively to the sitter and depicted what she saw and perceived. In psychologically intense images such as this portrait of the Brazilian sculptor Marisol, Neel abandoned the traditional elements of rigorous naturalism, distorting and manipulating the relationship of form, perspective, line, color, and anatomy to create portraits of uncompromising directness. Seated slightly askew with awkwardly crossed legs, her long bony fingers entangled and her sweater an agitated pattern of stripes, Marisol exudes tenseness. Her strong features, averted gaze, and bluntly cut hair all betray the intensity of this artistic personality.
---