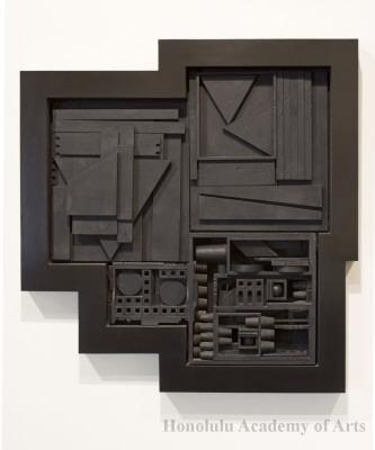 Object Title:
Black Zag X
Date:
1969
Artist:
Louise Nevelson
Active:
American, 1900 - 1988
Medium:
Wood, paint, and formica
Dimensions:
39 3/4 x 38 in. (101 x 96.5 cm)
Credit Line:
Gift of the Estate of the Honorable Clare Booth Luce, 1988 (5719.1)
Object Number:
5719.1
Description:
Abstraction and assemblage (the integration of disparate objects into a unique work of art) have played a key role in the development of modern art and find important expression in the work of Louise Nevelson. Although Nevelson worked in a variety of materials, ranging from Plexiglas to metal and stone, assemblages such as this, composed of found or manufactured wood pieces, comprise her most noted works. A stacked arrangement of multiple wood boxes and crates with smooth or textured geometric wood forms set in the rectangular enclosures characterizes her sculpture. Nevelson preferred a monochromatic palette and typically painted her works either black or white. In Black Zag X she composed within a selection of boxes numerous truncated cones, hollowed rectangular blocks, and other larger geometric wood cut-outs. The various forms repeat rhythmically or, when in juxtaposition, define contrasting patterns. As Nevelson considered the exchange of positive and negative space, mass and volume, and the standardization of identical forms and individuality of placement, she made an abstract statement of balance and harmony.
---