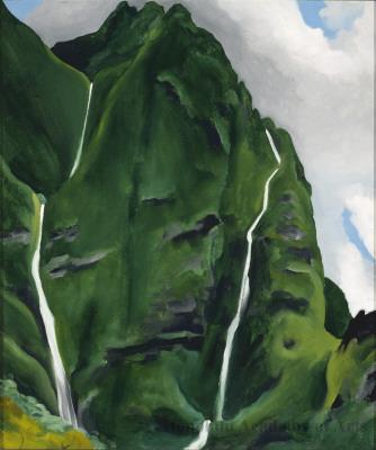 Object Title:
Waterfall—End of Road—'Iao Valley, 1939
Date:
1939
Artist:
Georgia O'Keeffe
Active:
American, 1887 - 1986
Medium:
Oil on canvas
Dimensions:
19 x 16 in. (48.3 x 40.6 cm)
Credit Line:
Purchase, Allerton, Prisanlee and General Acquisition Funds and with a gift from The Honolulu Advertiser, 1989 (5808.1)
Object Number:
5808.1
Description:
Georgia O'Keeffe, one of America's foremost painters, traveled to Hawai'i in 1939 at the invitation of the Hawaiian Pineapple Company, Ltd. (later Dole Company) to participate in a national magazine advertising campaign. During and after her visits to Oahu, Maui, Hawai'i, and Kaua'i, O'Keeffe painted twenty canvases depicting local subjects, including the dramatic coastal and valley landscapes of Maui, such as this representation of a waterfall. While on Maui, O'Keeffe traveled several times up the serpentine road into Iao Valley. Impressed by the waterfalls that appear after heavy rains, she devoted four canvases to the subject. Here, O'Keeffe represented the pair of waterfalls at the end of the road into the valley. O'Keeffe celebrated the sublime beauty of Hawai'i's mountains with a dynamic composition featuring an oblique view as well as the zigzags of the waterfalls and mountain profile.
---