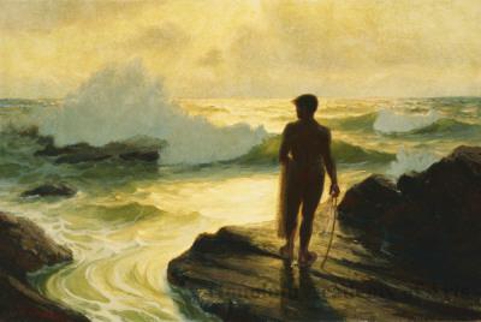 Object Title:
Hawaiian Fisherman
Date:
1924
Artist:
Lionel Walden
Active:
American, 1861 - 1933
Medium:
Oil on canvas
Dimensions:
52 x 76 in. (132.1 x 193 cm)
Credit Line:
Gift of Frances Damon Holt in memory of John Dominis Holt, 2001 (9501.1)
Object Number:
9501.1
Description:
Known as the preeminent painter of the Hawaiian seascape, Lionel Walden studied in Paris in the third quarter of the 19th-century with the academician Carolus-Duran (France, 1837-1917). Walden's paintings are characterized by a luminous quality of light revealing the influence of his teacher as well as earlier romantic painting in America. Hawaiian Fisherman was painted in Walden's Paris studio and shown at the 1924 Salon where it received a medal.
---