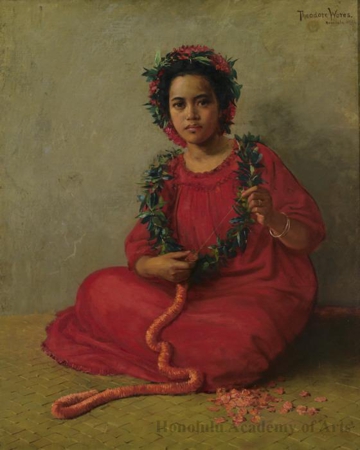 Object Title:
The Lei Maker
Date:
1901
Artist:
Theodore Wores
Active:
American, 1859 - 1939
Medium:
Oil on canvas
Dimensions:
35 5/8 x 29 in. (90.5 x 73.7 cm)
Credit Line:
Gift of Drs. Ben and A. Jess Shenson, 1986 (5490.1)
Object Number:
5490.1
Description:
San Francisco painter Theodore Wores, known for portraits, genre subjects, and landscapes drawn from his native city's Chinatown or during travels in Japan, was resident in Honolulu during 1901 and 1902. Like other visiting artists, he was attracted to the beauty of Hawai'i's people and landscapes and rendered numerous Hawai'i subjects, The Lei Maker undoubtedly his best known. Wores' young sitter, dressed in a bright orange-red holokü with a lei of matching colorful blossoms and green maile leaves on her head and a maile lei around her neck, sits on a woven mat. She pauses meditatively, interrupted as she strings a lei with the delicate blossoms of the orange 'ilima that lie scattered at her side. Engaging, appealing, and sweetly poignant, this work has come to embody the perception of "Old Hawai'i."
---