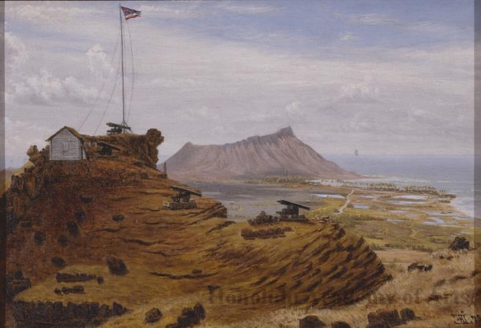 Object Title:
View of Honolulu from Punchbowl
Date:
1875
Artist:
Anders Elias Jorgensen
Active:
Dutch, 1838 - 1876
Medium:
Oil on canvas mounted on board
Dimensions:
11 1/8 x 16 1/8 in. (28.3 x 41 cm)
Credit Line:
Gift of Hester M., Richard C., and David E., Vanderburgh in memory of Richard M. Vanderburgh, 1981 (4954.1)
Object Number:
4954.1
Description:
The Danish artist Eiler Jorgensen, a resident of Oakland, California, arrived in Hawai`i in 1875 on vacation. He decided to stay awhile and sent for his equipment so that he could sketch the scenery in and about Honolulu. This view looks beyond the crumbling remains of old Punchbowl Fort to Waikiki and Diamond Head. The fort, actually just a battery, was put up early in the century to defend Honolulu. Its cannons, of various sizes and origins, were never called upon to fire a shot, save to salute incoming vessels or to record royal births, deaths, and marriages. The fort's only casualty was said to have been an unlucky citizen caught by the accidental discharge of a cannonball. Then as now, the rim of Punchbowl Crater was famous for the superb panoramic views of the town it afforded. The ribbonlike path of the road below it leads past pastures, ponds, and marshy areas to the palm-fringed-shores of Waikiki. Occasional signs of habitation are visible along the way, but the area would not be developed until artesian wells were drilled a few years later.
---