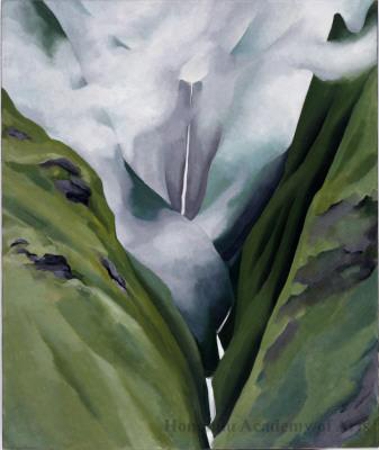 Object Title:
Waterfall—No. III—'Iao Valley
Date:
1939
Artist:
Georgia O'Keeffe
Active:
American, 1887 - 1986
Medium:
Oil on canvas
Dimensions:
24 1/4 x 20 in. (61.6 x 50.8 cm)
Credit Line:
Gift of Susan Crawford Tracy, 1996 (8562.1)
Object Number:
8562.1
Description:
O'Keeffe devoted three canvases to the depiction of this waterfall near the mouth 'Iao Valley. This and the other paintings were universally applauded in their New York reviews. Critics noted their "curiously fresh and virginal look" and commented that "the massive nature of the mountain forms in these pictures, the thin white stream of the water fall, are set forth with a sense of design and have that air of truth which brings home to us the very savor of an exotic scene." The shapes that underlie this composition are also suggestive of female sexuality. O'Keeffe vehemently denied such references in all her work, yet it seems clear that such allusions act as part of O'Keeffe's painterly expression.
---