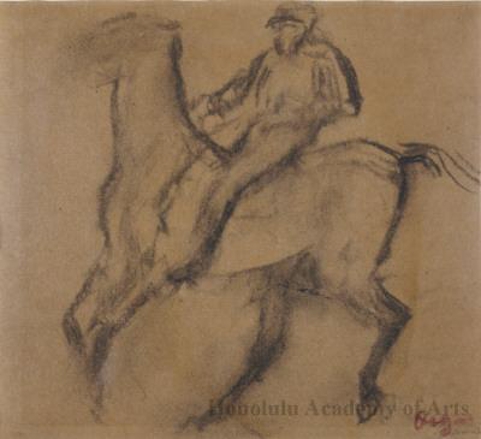 Object Title:
Man on Horse
Date:
19th-20th Century
Artist:
Edgar Hilaire Germain Degas
Active:
French, 1834 - 1917
Medium:
Charcoal on paper
Dimensions:
5 1/4 x 5 3/4 in. (13.3 x 14.6 cm)
Credit Line:
Gift of Robert Allerton, 1942 (11908)
Object Number:
11908
Description:
In this work, Degas examined the interaction of two figures in motion, one human, one animal. He captured the movement of horse and rider at full gallop, in what can be described as freeze-frame effect. Explicit details such as the features on the jockey's face and the horse's head are very roughly indicated. The focus is on the horse's hind legs, which are emphasized by Degas' use of bold, black strokes, and the horse's torso, which supports the weight of the jockey. Light, slightly smudged charcoal strokes depict a twisting of the horse's body as if it is about to change the direction of its gallop. The work illustrates Degas' skill at capturing motion with a few deft, well-placed strokes of charcoal, pastel, or brush.
---