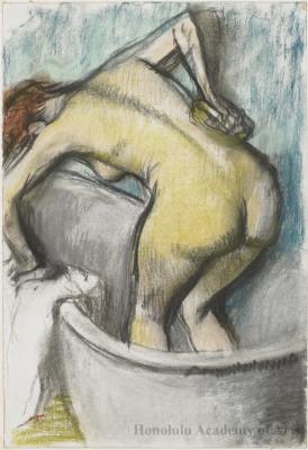 Object Title:
The Bath: Woman Sponging Her Back
Date:
c. 1887
Artist:
Edgar Hilaire Germain Degas
Active:
French, 1834 - 1917
Medium:
Pastel on paper
Dimensions:
20 3/4 x 14 1/8 in. (52.7 x 35.9 cm)
Credit Line:
Gift of Mr. and Mrs. Henry B. Clark Jr., 1979 (17400)
Object Number:
17400
Description:
The primary concern of Edgar Degas was the human figure, and he examined its many nuances and possibilities in his series of nude bathers. In works such as this Degas attempted to depict the female form from a new point of view. Instead of showing undressed models in formal attitudes chosen by the artist, Degas set up tubs and basins in his studio and asked his models to go through the ordinary movements of their baths and personal care. He observed them in their unstudied, natural attitudes and from unexpected angles that revealed new possibilities in composition. In this pastel the bather bends forward in her tub and sponges her back. The rubbed and deliberately smudged colored pastels and hatching strokes defining the body's contours produce a luminous and textured surface. One can even see Degas' ideas changing as he corrected the position of the arms. This pastel is an intimate and spontaneous response to something observed, dynamic, and alive.
---