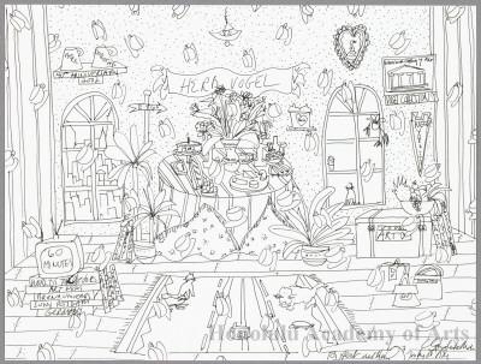 Object Title:
Untitled
Date:
2002
Artist:
Claudia DeMonte
Active:
American, born 1947
Medium:
Ink on paper
Dimensions:
8 7/8 x 11 7/8 in. (22.5 x 30.2 cm)
Credit Line:
Gift of the Dorothy and Herbert Vogel Collection: Fifty Works for Fifty States, a joint initiative of the Trustees of the Dorothy and Herbert Vogel Collection and the National Gallery of Art, with generous support from the National Endowment for the Arts and the Institute for Museum and Library Services, 2009
Object Number:
31554
Description:
Claudia DeMonte is a painter, sculptor, performance artist, teacher, curator, and collector, whose numerous projects and bodies of work interrogate the minutiae of domesticity and the shifting identities of women worldwide. Her feminism originates in the downtown New York art scene of the 1970s and 1980s, where she, like Eleanor Antin, Mary Kelly, Adrian Piper, and Carolee Schneeman, learned to politicize her body as a cipher for societal expectations. Like her contemporaries Judy Chicago, Joyce Kozloff, and Miriam Shapiro, she has long operated in the liminal zone between the fine arts and craft. In the early 1990s, DeMonte began a series of works depicting rooms full of objects that encapsulate the lives lived within them, an example of which is on view here. Inscribed to Herbert and Dorothy Vogel, this untitled drawing illustrates the couple's apartment as a cacophony of favorite things set against a decorative backdrop of coffee cups. Two engraved mugs rest on a shelf in the upper left corner, identifying the drawing as a gift to the Vogels for their 40th wedding anniversary, while a picture of a classical portico in the upper right corner commemorates the accession of their collection into the National Gallery of Art. Below it is a crate labeled "Art," which signifies the collection itself and its travels; across the room is a stack of exhibition catalogues, art magazines, and a television broadcasting 60 Minutes, which suggest the Vogels' preferred sources of information. In the center of the room is its sole piece of furniture—a table—around which amble the couple's beloved companions: three cats and a turtle.
---