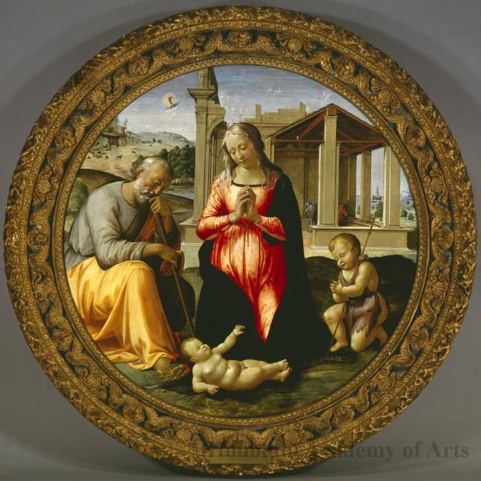 Object Title:
Adoration of the Christ Child
Date:
c. 1500
Artist:
Francesco Granacci
Active:
Italian, 1469 - 1543
Medium:
Tempera on wood panel
Dimensions:
Diameter: 34 1/2 x 3/4 in. (87.6 x 1.9 cm)
Credit Line:
Gift of the Samuel H. Kress Foundation, 1961 (2987.1)
Object Number:
2987.1
Description:
Using the tondo (circular) format popular in the Renaissance for his composition, Francesco Granacci monumentalized the Holy Family by placing the figures in the foreground on a small rise against a background of receding vistas. The Christ Child lies on the edge of Mary's robe, who kneels above him with a tender, adoring gaze. At left, Joseph is seemingly lost in contemplation of the newborn child; Christ's cousin, St. John the Baptist, as identified by his hair shirt and reed cross, is at right. Although there is no scriptural source for a meeting between the infant Christ and youthful St. John the Baptist, such a family grouping was quite popular in Italy in the 16th century. As the last of the Old Testament prophets and first of the saints of the New, St. John the Baptist was viewed as Christ's forerunner. In paintings such as this, as Christ gestures toward his cousin and their gazes meet, it was traditionally believed that the two acknowledged and accepted their sacrifices and roles in offering Christian salvation.
---