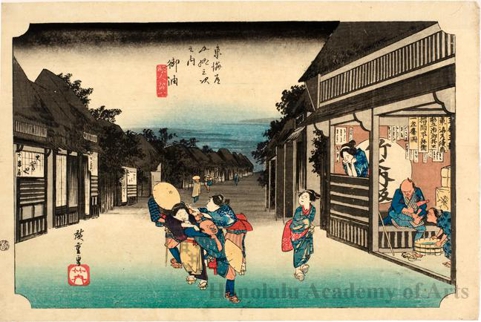 Object Title:
Women Stopping Travelers at Goyu (Station #36)
Series Title:
Fifty Three Stations of the Tökaidö (Series Number: 36)
Date:
c. 1833 - 1834
Artist:
Utagawa Hiroshige
Publisher:
Takenouchi Magohachi < Takemago > Hoeidö
Medium:
Color woodblock print Technique: Nishiki-e (Woodblock print with color blocks)
Credit Line:
Gift of James A. Michener, 1978 (17230)
Object Number:
17230
Seals:
Takenouchi Magohachi, Höeidö (c. 1830s~1840s) 竹内孫八 <竹孫>保永堂天保
Other Title:
Kanji : 御油 旅人留女 Series Kanji : 東海道五拾三次之内(保永堂版東海道)
Description:
This print was conserved with the support of the Robert F. Lange Foundation. The inn ladies of Goyu (today part of Toyokawa City, Aichi Prefecture) made a name for themselves as aggressive competitors for the patronage of travelers who passed through. They are mentioned in Adventures Down the Tökaidö: As Yaji made his way from behind, he came to the station town of Goyu. Wanting to snag him quickly for the night, women flanked him from both sides. Both looked like they were smothering his face and kneading him. Though they tugged on his sleeves and made quite a ruckus, Yaji was eventually able to shake them off and slip away. The traveler shown in this print may very well be Yaji. If it is, we know that the traveler being harassed immediately behind him is not his companion Kita, who at this point in the story has gone ahead to find a decent inn before nightfall. Of special interest in the print, aside from the caricatures, are the signs featured just inside the inn. The four on the far right (from right to left) say, "Continuation of the Tökaidö Pictures," "Jirobei, Engraver," "Heibei, Printer," and "Drawings by Ichiryüsai" (another name of Hiroshige's). Inside the big white circle on the wall in partial view are the characters for the publisher's name, Takeuchi. It was common to give the designer and publisher credit in prints, but rare to identify the printers and engravers. This may reflect Hiroshige's empathy for the usually anonymous craftsmen who produced his prints.
---