Event:
Modernbook Pop-Up Shop
Date:
February 27, 2014 10:00am-02:00pm
Location:
Honolulu Museum of Art
---
Event Information:
Centeral Courtyard, FREE
Part of the Decisive Moments Photography Program
Mark Pinsukanjana, co-owner of Modernbook Editions in San Francisco, offers the publisher and gallery's high-quality, small-quantity art books and limited-edition box sets perfect for the emerging and passionate art collector. Sets include a signed first-edition book and limited-edition photograph enclosed in a beautiful clamshell portfolio.
Mark Pinsukanjana is the co-founder, publisher and co-owner of Modernbook Gallery (since 1999) and Modernbook Editions (since 2005). He has curated more than 100 gallery exhibitions. He has published 12 art books, including Almost Fiction by Jaime Baldridge; Entropic Kingdom by Tom Chambers; Hong Kong Yesterday by Fan Ho; Searching for True North by Geir Jordahl; and Alice's Adventures in Wonderland by Maggie Taylor.
In addition, he was a co-instructor for "Creating a Photography Exhibition: From Concept to Opening" with Stanford Continuing Studies from 2005 to 2010. Currently he is on the Advisory Board at Foothill College Art Department. He received a Bachelor of Art from California State University, Long Beach. His interest in photography varies: beauty, figurative, color, digital, and black & white.
Available at the pop-up shop will be: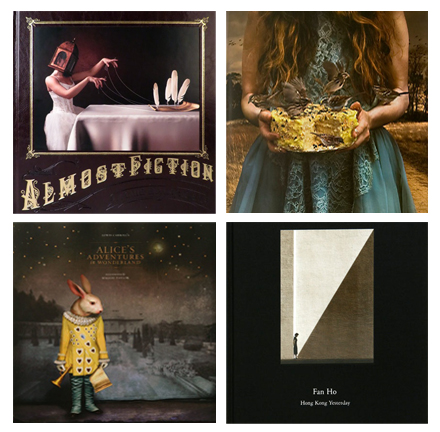 Almost Fiction by Jamie Baldridge (Regular Edition)
Available through Modernbook Editions is Jamie Baldridge's first monograph, Almost Fiction, a survey of images from three bodies of work—Belle Époque, Dystopia, and The Everywhere Chronicles. Each image is paired with short stories written by Jamie Baldridge. Foreword by Graham Nash. Leather-bound (faux), 11x11 inches, 105 pages, 49 four-color plates.
Entropic Kingdom by Tom Chambers (Regular Edition)
Introduction by Aline Smithson. Hard-bound, 11 x 11 inches, 58 four-color plates, 112 pages. Regular Edition 1,000 copies, $75.
Fan Ho: Hong Kong Yesterday (Third Printing)
Award-winning photographer Fan Ho's most popular book is a beautiful look at Hong Kong during the 1950s and 60s. Clothbound, hardcover, 9.5 x 11 inches, 112 pages, 70 dual-color plates.
Searching for True North (Regular Edition) by Geir Jordahl
Clothbound, 9.25x13 inches, 164 pages, 127 duo-tone plates.
Alice's Adventures in Wonderland by Maggie Taylor/Lewis Carroll (Regular Edition)
Dust jacket, 11x11 inches, 186 pages, 45 four-color plates.
---