Event:
Koyo
Date:
September 21, 2014 11:00am-05:00pm
Location:
Honolulu Museum of Art
---
Event Information:
Koyo means "autumn leaves" in Japanese and kids can make a fan, an origami leaf, and a woodblock print inspired by the fall colors of Japan. The Taiko Center of the Pacific, Nakasone Dance Academy, and Kenshikan Kendo Club perform.
And in celebration of the upcoming release of Under the Blood-Red Sun catch a free screening in the Doris Duke Theatre. Join us to meet the director and cast after the screening at Bank of Hawaii Family Sunday!
Note: Activities end at 3pm
ART ACTIVITIES
Koyo fan making: Cool down this September by making a custom fan. Learn folding techniques to create the ridges that direct air flow, then decorate using some of the traditional Japanese fall colors. Assemble the finished product with the help of our volunteers and staff. Parents—shoot the breeze behind your kids as they fan away!
Origami leaves: Take a lesson in the ancient art of Japanese paper folidng to shape a square piece of paper into a beautiful autumn leaf.
Entertainment:
Hear and feel the thunderous troupe from Taiko Center of the Pacific pound away in Central Courtyard. Some of the drummers are as young as 5 years old!
Watch the Nakasone Dance Academy and get in the spirit with Okinawan dances ranging from traditional songs to modern and upbeat min'yo (folk tunes).
Kenshikan Kendo Club: Watch kendo masters demonstrate this centuries-old martial art of
traditional swordsmanship.
FAMILY FILM SUNDAY**
Under the Blood-Red Sun
11am | **THIS FILM IS SOLD OUT
Directed by Tim Savage. USA. 2014. 90 mins. For ages 8 +.
An unforgettable story of friendship, courage and survival in 1941 Hawai'i. Based on the beloved novel by Graham Salisbury.
Doors to the theater open at 10:30am.
FAMILY DAY AT SPALDING HOUSE
Take the free shuttle from Honolulu Museum of Art for more activities and entertainment at our new Family Day at Spalding House in Makiki Heights.
DRAWING CONTEST
For kids (ages 1-17):
The museum gives contestants a theme and drawing supplies.
The winner receives a Supporting Membership to the Honolulu Museum of Art ($100 value), and his or her artwork is used to create the following month's event brochure and is posted on the museum's website.
Congratulations to this month's winner!
Zeila Maclachlan, Mililani, HI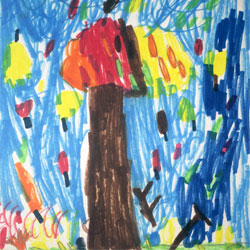 ---