Event:
Following Stars
Date:
March 15, 2015 11:00am-05:00pm
Location:
Honolulu Museum of Art
---
Event Information:
Celebrate the Polynesian Voyaging Society's 40th anniversary! Learn about Hōkūle'a's ongoing landmark Malama Honua voyage, as well as the return of the Hawai'i Loa to O'ahu as a training vessel.
Special thanks to the Friends of the Hokule'a and Hawai'iloa.
ART ACTIVITIES
Make lauhala fish and stars: Ulana Me Ka Lokomaika'i will help visitors make lauhala fish and stars. Twenty of Aunty Gladys Kukana Grace and Uncle Frank Masagatani's students will teach visitors about the versatile fiber lauhala and how to properly clean and strip lauhala as well as create their own stars and fish to take home.
Watch a canoe demonstration: The Friends of Hokule'a and Hawai'iloa will do a canoe demonstration, lashing demonstration, and show visitors how to read a star compass. The Friends have borrowed items from the museum's Lending Collection—such as a paddle, water bottle, storyboard, mini canoe, star compass, boat carving tools—to put on display. The Friends will play a video of Hokule'a and Hawai'iloa.
Make a clay charm: Visitors learn to mold clay into shapes inspired by the Hōkūle'a's ongoing voyage. After the paint is dry the charms can be decorated with acrylic paint. After two or three days in the sun, the hardened charms can be strung onto a necklace.
Make a tī leaf bracelet: The tī plant flourishes in landscapes through Hawai'i. Children will learn how to use a single tī leaf to create a handsome bracelet using the traditional twisting technique used to make Hawaiian lei.
DOUBLE THE FUN
Take a shuttle bus to the museum's free Family Day at Spalding House in Makiki Heights!
FAMILY FILM SUNDAY
Keeping Up with the Steins
Directed by Scott Marshall. USA. 2006. 90 mins. Recommended for ages 8 to adult.
11:10am + 1pm


DRAWING CONTEST
For kids (ages 1-17):
The museum gives contestants a theme and drawing supplies.
The winner receives a Supporting Membership to the Honolulu Museum of Art ($100 value), and his or her artwork is used to create the following month's event brochure and is posted on the museum's website.
Congratulations to this month's winner!
David Kondo, 11, Honolulu, Hawai'i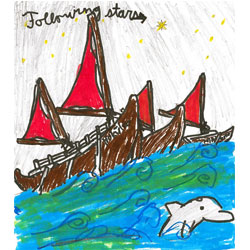 ---