Event:
Mālama Honua
Date:
May 15, 2016 11:00am-05:00pm
Location:
Honolulu Museum of Art
---
Event Information:
Join members from the Polynesian Voyaging Society and learn how the navigators of Hōkūleʻa and Hikianalia use the stars to guide them around the world.
ART ACTIVITIES
• Make Aloha ʻĀina Peace Flags: Kids can take part in a project started by members from the Polynesian Voyaging Society. They will decorate small flags with written and visual messages about how they nurture and protect the place they call home. The flags will be sewn together into a quilt and delivered by the Hōkūleʻa crew on one of their stops along the worldwide voyage.
• Make a constellation telescope: Kids will punch holes into the covered end of a tube to create a toy "telescope" that reveals a model of a constellation that voyagers use to navigate.
ENTERTAINMENT:
• The Friends of Hokule'a and Hawai'iloa will do a canoe demonstration, lashing demonstration, and show visitors how to read a star compasses. Visitors will also get a chance to talk story with crew members from the Mālama Honua Worldwide Voyage.
• Hands-on exploration: Kids can touch and explore objects from our lending collection related to voyaging and Pacific Island culture.
DOUBLE THE FUN
Take a shuttle bus to the museum's free Family Day at Spalding House in Makiki Heights to see the Plastic Fantastic? exhibition.
FAMILY FILM SUNDAY
Waltah the Worm: The Rite of Passage
Directed by Erik Bathen & Dr. Malia J. Smith. 2015. USA. 24 min.
11:10am + 1pm
Free
DRAWING CONTEST WINNER
Congratulations to Chloe Akamine Mathis, age 12, from Kāneʻohe!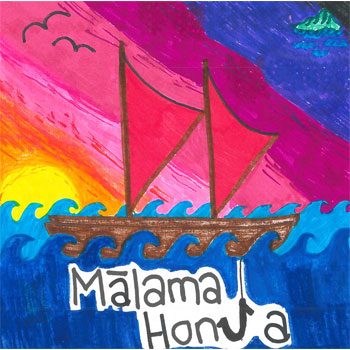 ---