April 21, 2013 11:00am-05:00pm
Honolulu Museum of Art
---
Bank of Hawaii Family Sunday event information
Help the museum celebrate its 86th birthday! Make a cupcake that will last a lifetime, decorate an edible one and enjoy the sounds of the Honokaʻa Jazz Band.

Note: Activities end at 3pm
ART ACTIVITIES

Cupcake rings with Maikaʻi Tubbs: Get festive and make wearable cupcake rings out of colored air-dry clay.

3-D Building Collages: AIA Honolulu architects and UH School of Architecture students will lead a design project where kids can decorate small cardboard boxes with cutouts of windows, doors, people and furnishings from recycled magazines. Each child will learn to visualize in three dimensions, be creative with where an opening or roof might be, and begin to understand planning for locations of items they put on the box.
Decorate a Cupcake: Kids can frost their own cupcakes before scarfing down the edible treat.
ENTERTAINMENT
Storytelling with Reid Tabata, 11:30am, 12:30pm, 1:30pm, 2:30pm
Reid reads birthday-related children's books. For kids in kindergarten to sixth grade.
Grammy Award–winning Honokaʻa High School Jazz Band, Noon-1pm

Balloon Monsoon, Noon-3pm
Grab a specially crafted twisted balloon while you can!

Magical Bubble Show!, 1:30-3pm
Karen Force of Aloha Party Experts blows amazing, unusually shaped bubbles! Don't miss the bubble fountain!
FAMILY FILM SUNDAY
We screen For the Beauty of the Earth, a collection of live action and animated shorts about our ever-changing planet.
FOOD
- Teri burger and chips (includes mayo, lettuce, tomato) $6
- Asian-style sweet spaghetti (ground beef, Redondo hot dog, garlic, onion) $6
- Vegetarian Asian-style sweet spaghetti (pasta, mushroom, celery, garlic) $6
- Hot dog with chips $4
- Peanut butter and jelly sandwich (3 stack) $4

Beverages:
- Coke, Diet Coke, Sprite, bottled water bottle, juice, $1
- Gatorade, Arizona Green Tea, iced coffee, $2
DRAWING CONTEST
Congratulations to last month's contest winner, eleven-year-old Anri Suzuki from Honolulu!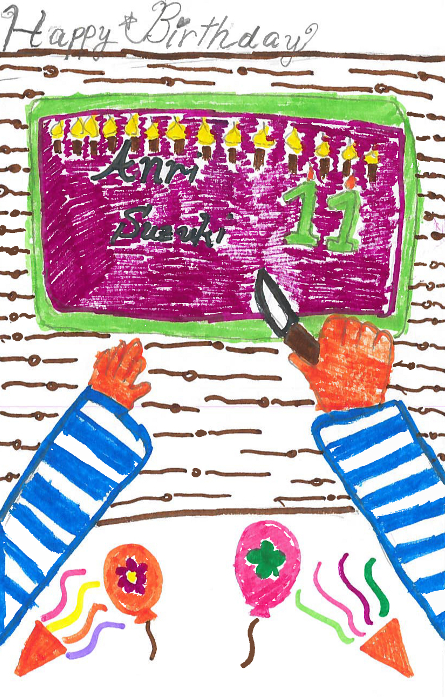 Kids (ages 1-17) can enter the monthly drawing contest. The Honolulu Museum of Art gives contestants a theme and drawing supplies. The winner receives a Family Level membership to the Honolulu Museum of Art (worth $95), and his or her artwork is used to create the following month's event brochure and is posted on the Museum's website.