October 20, 2013 11:00am-05:00pm
Honolulu Museum of Art
---
Bank of Hawaii Family Sunday event information
It's Hawaii Fashion Month! Kids can give their Halloween costumes a test run at Bank of Hawaii Family Sunday or make their own at the event!

Note: Activities end at 3pm.
ART ACTIVITIES
Make your own costume: Get a head-start on Halloween by constructing a superhero costume or life-size paper doll.
Create monster hats: Kids will learn how to bend, crease, and fold papers to look like a monster.
Fashion headpieces and masks: Artists from Hawaii Fashion Month will be helping children make headpieces and masks out of felt, trim, and chenille.
ENTERTAINMENT
Crimson Apple
This all-girl band from Mililani will rock the house. Dance to the fun tunes of sisters Colby Benson (Lead vocals/Keys/Guitar); Shelby Benson (Rhythm/Lead Guitar/Vocals); Carthi Benson (Bass); Faith Benson (Drums); and their good friend Rachel Look (Lead Guitar/Vocals).
Students from Washington Middle School will perform a choreographed number to Michael Jackson's "Thriller."

Professor Pandemonium will dazzle crowds with Hawai'i's first and only Circus Sideshow.
See a garment painting demonstration by artist Darold Ramelb.
11:15am, 12:15, 1:15 + 2:15pm: Ghost stories by Lopaka Kapanui, Gallery 29 (Arts of Hawaiʻi)
Master storyteller Lopaka Kapanui tells chicken-skin ghost stories relating to artwork in the reinstalled Arts of Hawaiʻi Gallery. Discretion is advised, recommend for kids age 12 and older.
FAMILY FILM SUNDAY
11:10am + 1pm: We screen Shiver and Shake, a collection of international shorts that will make you both crack a smile and activate your chicken skin. $3 adults, $1 children (13 + under).
DRAWING CONTESTS
For kids (ages 1-17):
The museum gives contestants a theme and drawing supplies.
The winner receives a Supporting Membership to the Honolulu Museum of Art ($100 value), and his or her artwork is used to create the following month's event brochure and is posted on the museum's website.
For adults (age 18 and up):
The museum gives contestants a theme and drawing supplies.
The winner receives a gift certificate for a Lauhala and Lunch picnic for two at Spalding House ($30 value, good for six months from receipt).
Congratulations to last month's contest winners!:
Kid contest: Joshua Kim, 11, from Honolulu: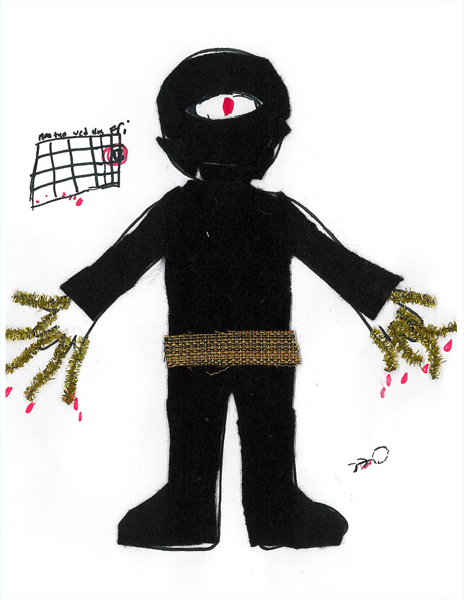 Adult contest: Florabelle Tadiaman: