November 17, 2013 11:00am-05:00pm
Honolulu Museum of Art
---
Bank of Hawaii Family Sunday event information
The Khanate of the Golden Horde brings the age of Genghis Khan alive! And LEAHI (the LEGO® Enthusiasts Association of Hawai'i) presents their fantastic constructions to the event.
Note: Activities end at 3pm.
ART ACTIVITIES
Make paper: Learn how to turn note scraps into elegant handmade paper.
Make a woven pouch: Weave a mini coin purse out of yarn and a cardboard loom.
ENTERTAINMENT
Watch Khanate of the Golden Horde warriors at battle, and learn how to combat as fiercely as they do! The Khanate of the Golden Horde is a group dedicated to researching and recreating the arts and skills of the 1200s to 1500s.
See and compare period weapons and armor from Europe (Crusters style) and Asia (Japanese, Chinese, Korean, Mongol and Persian styles).
Kids can test their aim at the archery range. (Moms, don't worry, kids use safety blunt-tipped arrows.)
Don't miss the pumpkin catapult and camp of Mongolian tents.
The LEGO® Enthusiasts Association of Hawaiʻi (LEAHI) show-off their latest creation, a castle fit for a khan or khanum. You can be the creator by entering their drawing contest! Draw your greatest castle creation at the event and LEAHI will pick winning submissions at a later date to turn into actual LEGO models for a Bank of Hawaii Family Sunday in 2014. Winners will also receive LEGO sets as prizes.
FAMILY FILM SUNDAY
11:10am + 1pm: We screen Happily Ever After, an all-animated collection of fables, legends and tongue-in-cheek fairy tails. $3 adults, $1 children (13 + under).
FOOD
- Roast turkey with gravy, mashed potatoes and corn $8
- Sirloin burger deluxe with cheese and chips (includes tomato, red onion, lettuce, and mayo) $8
- Hot dog with chips $4
- Grilled cheese sandwich with chips $5
- Nachos $5
- Soba salad (includes romaine lettuce, fish cake, cucumber, eggs, nori, green onion with shoyu lime ginger shallot vinaigrette dressing) $7
DRAWING CONTEST
For kids (ages 1-17):
The museum gives contestants a theme and drawing supplies.
The winner receives a Supporting Membership to the Honolulu Museum of Art ($100 value), and his or her artwork is used to create the following month's event brochure and is posted on the museum's website.
For adults (age 18 and up):
The museum gives contestants a theme and drawing supplies.
The winner receives a gift certificate for a Lauhala and Lunch picnic for two at Spalding House ($30 value, good for six months from receipt).
Congratulations to last month's contest winners!
Kid contest: Calla Cieskowski, 7, from Honolulu: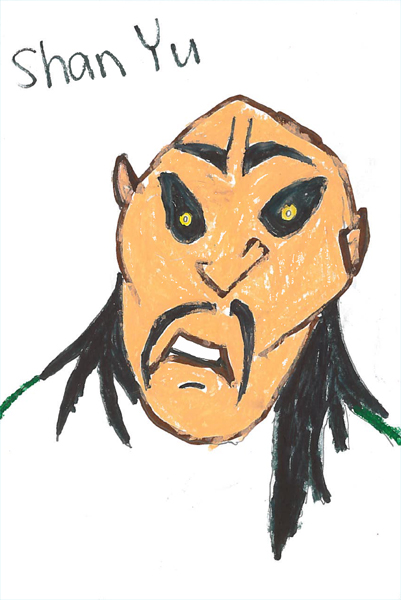 Adult contest: Carla Aplaca-Tani: