June 21, 2015 11:00am-05:00pm
Honolulu Museum of Art
---
Bank of Hawaii Family Sunday event information
Join us for a day of activities inspired by Artists of Hawai'i 2015! Make art with one of the artists included in this upcoming exhibition.
ART ACTIVITIES
Make a clothespin critter: Join digital artist and sculptor Lauren Trangmar to make hybrid, clothespin animals by mixing or matching illustrations created by the artist. Kids can get as wild and inventive when using the cut foam to make their animals. They'll finish by attaching their chosen combination onto a clothespin to create a unique creature with a bite.
Create a sunset silhouette postcard: Using inspirational sunset images, children will make a postcard using plastic gels and cut paper. The postcards will feature silhouettes of Diamondhead, waves, and other local landscape icons.
ENTERTAINMENT
Rock out to Friendly Fyre: Comprised of five fun, friendly, and frenetic rock musicians hailing from Honolulu, Friendly Fyre delivers more than enough ear candy for the rock hungry. With influences ranging from Janet Jackson to Paramore, the band is sure to entertain with their original songs and inventive covers.
Enjoy Harrison Holmes' solo set: A performer from the local group Prism Offshore, Holmes will be performing a set of laid-back, groovy acoustic tunes in the café from 1-2pm.
Peep some bonsai trees: Tour a miniature exhibit of various bonsai creations by local mixed-media artist Kahi Ching. Hear Ching and his teacher Francis Lee describe their Hawaiian-style bonsai trees, ʻumeke lāʻau. They will be sharing plants, sculpture, photos, and information regarding their work. Samples will also be available in the Museum Shop.
DOUBLE THE FUN
Take a shuttle bus to the museum's free Family Day at Spalding House in Makiki Heights!
FAMILY FILM SUNDAY
Fantastic Journeys: Animated Shorts From Children's Film Festival Seattle 2015
11:10am + 1pm
Free
DRAWING CONTEST
For kids (ages 1-17):
The museum gives contestants a theme and drawing supplies.
The winner receives a Supporting Membership to the Honolulu Museum of Art ($100 value), and his or her artwork is used to create the following month's event brochure and is posted on the museum's website.
Congratulations to this month's winners, whose combined drawings will grace the cover of the Family Sunday brochure.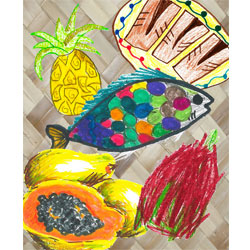 Jodi Torricer, age 15
Yzelle Messinger, age 10
Sophia Sampson, age 3
Tiffany Ishida, age 6
Nika Aguilar, age 10