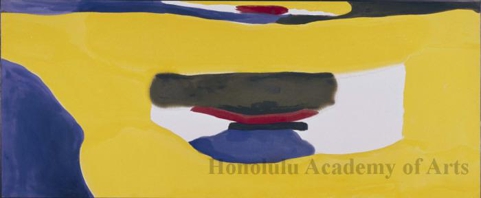 Object Title:
Sun Frame
Date:
1966
Artist:
Helen Frankenthaler
Active:
American, born 1928
Medium:
Acrylic on canvas
Dimensions:
44 x 104 in. (111.8 x 264.2 cm)
Credit Line:
Purchase, Margaret Emerson Fund, 1966 (3386.1)
Object Number:
3386.1
Description:
A pioneer in the development of color field painting, Helen Frankenthaler adopted from the abstract expressionist painter Jackson Pollock the technique of pouring pigment on a large expanse of unstretched canvas laid on the floor. By initially saturating her unprimed support with oil and subsequently with acrylic paints Frankenthaler eliminated the painterly brushstroke technique of earlier artists and created buoyant, spontaneous, color-filled abstractions. Her panoramas of light and color begun in the 1950s exerted a strong influence on other artists such as Morris Louis.
---