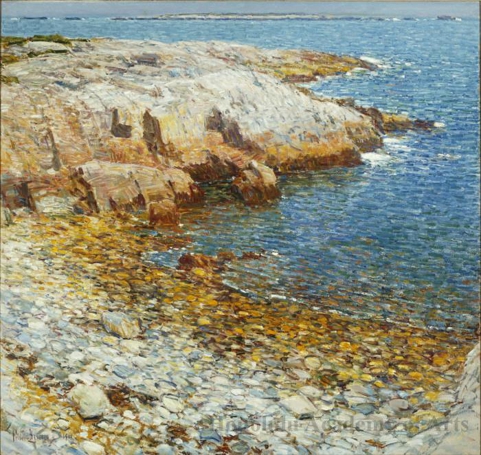 Object Title:
Isles of Shoals, Broad Cove
Date:
1911
Artist:
Childe Hassam
Active:
American, 1859 - 1935
Medium:
Oil on canvas
Dimensions:
33 1/2 x 35 3/8 in. (85.1 x 89.9 cm)
Credit Line:
Purchase, Academy funds and gift of Mrs. Robert P. Griffing, Jr., and Renee Halbedl, 1964 (3194.1)
Object Number:
3194.1
Description:
The sparkling light, vibrant colors, and broken brushwork of this shoreline scene demonstrate Childe Hassam's awareness of French Impressionist techniques. After working as an artist in Boston, Hassam spent three years in Paris, where an interest in light and its effects attracted him to the luminous palette and active paint manipulation of the impressionist style. This work, one of a series of paintings Hassam devoted to the Isles of Shoals, a group of islands located off the Maine and New Hampshire coastline, depicts a favored summer destination of the artist. Here, Hassam captured Broad Cove during a bright, calm midday moment, when he could best observe the play of light on the water's surface.
---