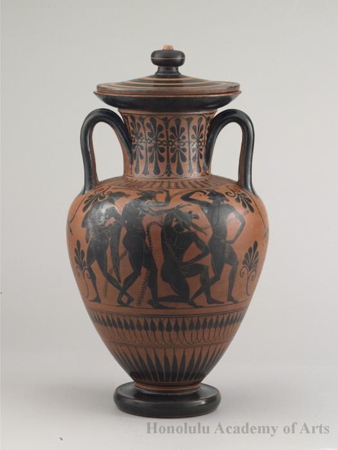 Object Title:
Amphora (Wine Container) with Lid
Date:
c. 530 B.C.
Medium:
Terracotta (black-figure)
Dimensions:
18 1/2 x 9 1/2 in. (47 x 24.1 cm)
Credit Line:
Gift of Anna Rice Cooke, 1932 (3588)
Geography:
Greece
Object Number:
3588
Description:
The amphora was one of the most common of Attic shapes, an all-pupose storage container for liquid such as honey, oil or wine; dry goods; small foods such as olives; and even the ashes of the deceased. Amphorae often had lids, and the one here is among the few to survive. Painted in the black-figure technique, one side of the amphora is painted with a charioteer driving warrior nearby. Dionysic revelers appear on the other side dancing with garlands on their heads.
---