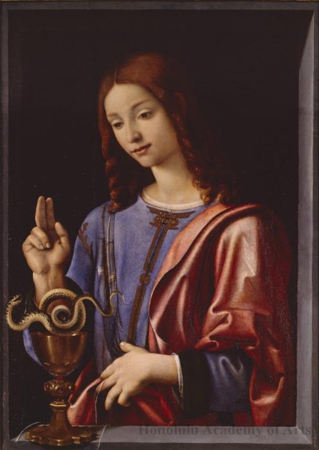 Object Title:
Saint John the Evangelist
Date:
1504-1506
Artist:
Piero di Cosimo
Active:
Italian, 1461 - 1521
Medium:
Oil on wood panel
Dimensions:
32 1/2 x 23 1/4 x 1/4 in. (82.6 x 59.1 x 0.6 cm)
Credit Line:
Gift of the Samuel H. Kress Foundation, 1961 (2989.1)
Object Number:
2989.1
Description:
Framed by a window, St. John the Evangelist gathers his robe with one hand, blesses a chalice with the other, and gazes serenely at a snake writhing across the lip of the cup. According to legend, when St. John was in Ephesus, he was to drink from a chalice of poisoned wine as a test of the strength of his faith-two men had already done so and died. As Piero di Cosimo depicted, when St. John blessed the cup, the poison departed miraculously in the form of an asp. By placing the figure and the beautifully detailed still life of snake and chalice close to the picture plane, and by projecting their forms beyond the window frame, Piero charged this moment of wondrous purification with a heightened sense of immediacy.
---