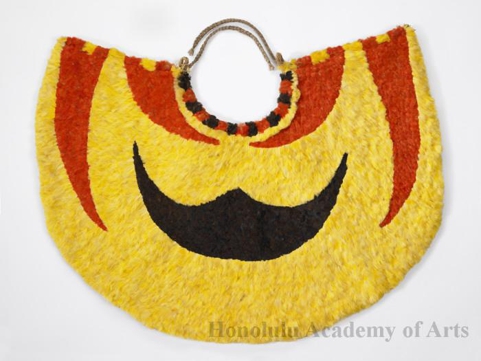 Object Title:
Feather, Cape ('ahu 'ula)
Medium:
Feathers ('i'iwi and 'o'o) and olona bark Technique: Feathers tied onto a netting made of olona bark.
Dimensions:
64 x 15 1/2 in. (162.6 x 39.4 cm)
Credit Line:
Gift of Mrs. John Dominis Holt, 1995 (7927.1)
Geography:
Hawaii
Object Number:
7927.1
Description:
Feather cloaks and capes were symbols of power and social standing in Hawaiian culture. Only high-ranking chiefs or warriors of great ability were entitled to wear these exceptional garments. The bright, velvetlike feathers came from tropical honeycreepers. Red feathers were mainly from 'i'iwi (Vestiaria coccinea) and 'apapane (Himatione sanguinea), and yellow from 'ö'ö (Moho nobilis) and mamo (Drepanis pacifica). 'Ö'ö and mamo, the latter limited to the island of Hawai'i, are basically black birds with a few yellow feathers. They were caught in the molting season and after yellow feathers were plucked out the birds were set free. Although the color red was associated with chiefs and the gods, yellow became the most prized color owing to the scarcity of the feathers. Among the many 'ahuli'i that have survived, no two capes have exactly the same design. Simple geometric motifs as seen here were common as design elements. This cape has survived from the time of King Kamehameha the Great.
---