September 15, 2018 - January 27, 2019
Honolulu Museum of Art
---
Exhibition Overview
Opening blessing and reception, Sep 15: Open to the public. Free museum admission for kama'āina with state-issued ID. Both Beretania and Spalding House cafés closed for regular service. Free parking available at the Art School.
Schedule:
• 11am: Protocol Blessing
• 11:30am-1pm: Reception with pūpū and hula
Ho'oulu: The King Kalākaua Era considers art and experimentation in the Hawaiian Kingdom during the reign of King David Kalākaua (1874–1891). Cosmopolitanism—the idea that local politics share systemic parallels internationally as part of a world citizenry—was a thriving philosophy in the Hawaiian Kingdom, and it was expressed through art.
People in Hawai'i developed a visual language that merged art and politics, and that presented local iterations of global art styles. They expanded an existing visual culture using a combination of indigenous and introduced materials, concepts, and techniques. The show features experimental art works alongside academic art works to explore how both the avant-garde and the academic were deployed in the shaping of a national identity.
The exhibition prompts conversations about issues of adaptability, economy, ceremony, and, more important, gets at underlying perceptions about the Hawaiian place in the world at turn of the century. It also challenges ideas about tradition, modernity, and culture in Hawai'i through the collection and loaned works.
The exhibition is accompanied by a lavish catalog and a full slate of programming by PA'I Foundation.
Learn more about Kalākaua's trip around the world in 1881 with this interactive StoryMap. Click the image below to start exploring.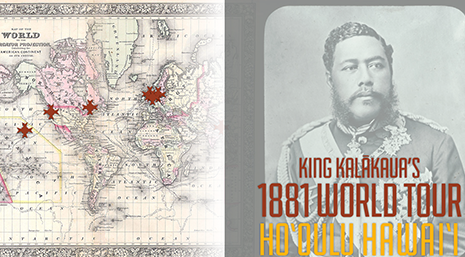 Presenting corporate sponsor

Major corporate sponsors
This exhibition is made possible by the Ohuokalani Charitable Foundation, Judy Pyle and Wayne Pitluck, Allison Holt Gendreau and Keith Gendreau, Laura and Donald Goo, Linda and Michael Horikawa, the Dolores Furtado Martin Foundation, and Jean E. Rolles.
Photographer unknown
Hula Girls on the beach at Hilo, c. 1890s
Albumen print
Bishop Museum Archives
Gift of Evelyn K. Vaughn
1985.012.02, no. 20 / 1985.012
Uniform of Walter Murray Gibson, 19th century
Cotton, wool, gold thread, and metal
Hawai'i State Archives
210
'Ahu 'ula, c. 1882.
Pheasant feathers, fowl feathers, velvet, silk, and "frog-style" clasps
Kapi'olani-Kalaniana'ole Collection, Bishop Museum
B.07238/1923.125
Photo by Hal Lum and Masayo Suzuki, copyright ©Bishop Museum