Event:
Woven Wonders
Date:
September 18, 2011 11:00am-05:00pm
Location:
Honolulu Academy of Arts
---
Event Information:
This month's event takes its inspiration from the exhibition Ulana me ka lokomaika'i: To weave from the goodness within, about the art of lauhala, and pays homage to the lauhala work of Aunty Gladys Kukana Grace, alongside the work of her own students.
The schedule:
11:00am - while supplies last: Free museum publication
*As a mahalo for coming down, we will also be passing out copies of Life in the Pacific of the 1700's to the first 200 people courtesy of the Academy. (Kinau Courtyard)
11:00am - 3:00pm Gallery Hunt (Gallery 22)

11:00am - 3:00pm Woven Lauhala Stars and Fish
Thirty of Aunty Gladys' students will gather to teach visitors about the versatile weaving material. Visitors will learn how to properly clean and strip lauhala as well as create their own stars and fish to take home. (Banyan Courtyard)
11:00am - 3:00pm Woven Coasters
Members of the Handweaver's Hui will lead a cardboard loom-weaving activity, teaching people how to weave yarn and fabric into colorful coasters. (Kinau Courtyard)

11:00am - 1:00pm Rick Rickard & Friends
On stage, the Academy's own Rick Rickard will be jamming with friends and sharing some local, hapa haole music for the first half of the day. (Central Courtyard)

11:10am & 1:00pm Family Film Sunday
All Creatures Great and Small—Short Films
61 mins. Three films are subtitled (Mandarin, Spanish, Swedish)
Kids will love this selection of short films filled with cuddly animals, sweet music and gentle stories.
$3 adults, $1 children 13 and under, (Doris Duke Theatre)

1:00pm - 3:00pm Kimo Alama Keaulana & Friends
The museum will be graced by traditional Hawaiian music from kumu hula and Na Hoku Hanohano Award winner, Kimo Alama Keaulana and friends. (Central Courtyard)

Drawing contest:
Congratulations to last month's contest winner, 12-year-old Brylin Nelson.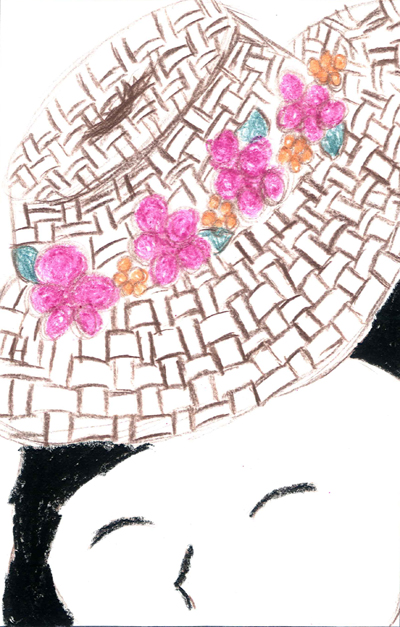 Kids (ages 1-17) can enter the monthly drawing contest. The Academy gives contestants a theme and drawing supplies. The winner receives a Family Level membership to the Honolulu Academy of Arts (worth $95), and his or her artwork is used to create the following month's event brochure and is posted on the Academy website.
---