Event:
Voyagers
Date:
May 18, 2014 11:00am-05:00pm
Location:
Honolulu Museum of Art
---
Event Information:
Join us as we send off the Hokule'a on its trip around the world with a celebration of the art of canoe making and navigation. Teaching artists will guide visitors in the making of star maps and iwa (great frigate birds). And go on a gallery hunt of ocean-related artwork.
ART ACTIVITIES
• Make an iwa keli'i (chief frigate bird) out of paper, chopsticks, and masking tape with artist Reid Tabata. This bird resembles the W- or M-shaped constellation, also known as Cassiopeia, that helps guide the Hokule'a and her crew.
• Kids can create their own star map with artist Lisa Shiroma. What do you see when you look up at the stars in the sky? Some astronomers have seen bears, lions, horses, and birds! Become an astronomer and connect the dots to make your own constellation. Then name it!
ENTERTAINMENT
11-11:45am: Waikiki Sunset Jammahs brings its post-surf kanikapila vibe and favorite island tunes to the museum—hula dancer included!
Noon-1pm The Movement Center students perform their latest dance moves.
1-1:50pm Kumu Marlene's Halau Hula 'O Nawahine—from na keiki to na kupuna—perform hula.
Navigation and Cultural Demonstrations by the Remathau Club of Hawaii
In honor of Maul Piailug, the Yapese navigator who taught the original 1970s Hokule'a crew how to navigate by the stars, we invite the members of the Remathau Club of Hawaii, who are also from Yap, to share navigation and cultural mana'o.
11am-3pm: Learn how to weave traditional navigation weather forecasting implements from palm fronds, and special lei given to departing voyagers
11:45am-noon, 12:45-1pm: Traditional navigation chants, which name the stars, and dance
11:45am-noon, 12:45-1pm: Traditional "send off" navigation dance
Noon-2pm: Traditional navigation demonstration in Kina'u Courtyard
FAMILY FILM SUNDAY
11:10am + 1pm. $ 3 adults | $1 children (13 + under). See the world with live action shorts from the Children's Film Festival Seattle showcase. Five films.
57 minutes. Two films with subtitles (Indonesian and German).
Ages 7+. A few films depict scenes of emotional difficulty, with happy endings.
SNACK BAR MENU
• Bento plate (teriyaki beef, hot dog, Spam, rice, noodles and macaroni salad), $10
• Sirloin burger topped with bacon, avocado, tomato, onion, lettuce and mayo, $10
• Hot dog and chips, $5
• Somen salad with fishcake, egg, nori, cucumber and romain lettuce, $9
• Grilled cheese sandwich with fruit salad, $5
• Nachos, $5
FAMILY DAY AT SPALDING HOUSE
Take the free shuttle from Honolulu Museum of Art for more activities and entertainment at our new Family Day at Spalding House in Makiki Heights.
DRAWING CONTEST
For kids (ages 1-17):
The museum gives contestants a theme and drawing supplies.
The winner receives a Supporting Membership to the Honolulu Museum of Art ($100 value), and his or her artwork is used to create the following month's event brochure and is posted on the museum's website.
For adults (age 18 and up):
The museum gives contestants a theme and drawing supplies.
The winner receives a gift certificate for a Lauhala and Lunch picnic for two at Spalding House ($35 value, good for six months from receipt).
Congratulations to this month's winners!
Kids' contest: Fiona Byrne, 10, of Mānoa: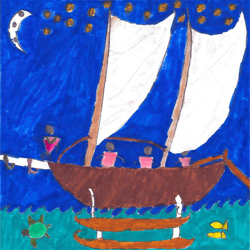 ​Adults' contest: Hana Yoshihata, 21, of Aina Haina:
---