Event:
A King's Tale
Date:
April 19, 2015 11:00am-05:00pm
Location:
Honolulu Museum of Art
---
Event Information:
Go on a gallery hunt in the exhibition Shahnameh: The Epic of Persian Kings then make Persian-inspired crafts and see a book-making demonstration.
ART ACTIVITIES
Make a clay tile: Drawing inspiration from the centuries-old designs and traditions of Persia, children will use paint, air-dry clay, beads, sequins, and other materials to create their own tile, or kashi (named after the Iranian town of Kashan). After the tiles have been molded, you can make unique impressions in the clay using three-dimensional objects. Then decorate the tiles with colorful acrylic paint.
Make a colorful necklace: Lapis lazuli is a brilliant blue semiprecious stone brought to ancient Persia from the Badakhshan Mountins in Afghanistan. The name "lapis lazuli" comes from the Persian word lazhevard, meaning "blue." Decorate wood beads with markers and string them to create a gorgeous necklace.
Watch a book-making demonstration: Join Alison Roscoe and see variations of handmade books and handmade paper. Be on the lookout for examples of Persian cultural artifacts and samples of Persian cuisine.
DOUBLE THE FUN
Take a shuttle bus to the museum's free Family Day at Spalding House in Makiki Heights!
FAMILY FILM SUNDAY
Azur & Asmar
Directed by Michel Ocelot. France. 2006/2008, 99 mins. Recommended for ages 6 to adult.
11:10am + 1pm
A tale of two very different brothers who become rivals while searching for a fairy.
DRAWING CONTEST
For kids (ages 1-17):
The museum gives contestants a theme and drawing supplies.
The winner receives a Supporting Membership to the Honolulu Museum of Art ($100 value), and his or her artwork is used to create the following month's event brochure and is posted on the museum's website.
Congratulations to this month's winner!
Avalon Tosaki, 7, Honolulu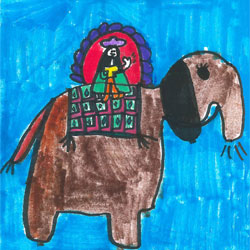 ---