Event:
Here in the Islands
Date:
February 19, 2017 11:00am-05:00pm
Location:
Honolulu Museum of Art
---
Event Information:
Be inspired by the homegrown talent in the exhibition Artists of Hawai'i 2017 and make your own mark to the sounds of the Air Force Band of the Pacific.
Entertainment and art activities end at 3pm.
ART + ENTERTAINMENT
Chasing rainbows: Kids will make a changing scene using two differently colored plates.
Intertidal scenes: Taking inspiration from Artist of Hawai'i Kasey Lindley, kids can work with the artist to make creative collages using photographs of intertidal scenes.
The royal treatment: Royal Hawaiian Band Glee Club takes the stage to sing with hula accompaniment from 11:15am to12:15pm.
Strings and things: Hear violinist Duane Padilla and friends play a medley from 12:30 to 1:15pm.
Soaring sounds: Listen to the world-class Air Force Band of the Pacific play from 1:30 to 2:30pm.
FAMILY FILM SUNDAY
Maisa the Chamoru Girl who Saves Guåhan
Directed by Michael Q. Ceballos. Guam/Hawai'i. 2015. 35 min. Chamoru with English subtitles.
Based on a Chamoru legend, Maisa tells the story of a girl who finds the strength to lead the women of Guåhan (Guam) into battle against a giant creature from the Marianas trench that is devouring their island home.
11:10am + 1pm • FREE
DOUBLE THE FUN
Take a shuttle bus to the museum's free Family Day at Spalding House in Makiki Heights for more art and fun.
DRAWING CONTEST
Open to kids age 1 to 17, the contest station features drawing supplies where participants create a drawing based on a theme.
The winner receives a Supporting Membership to the Honolulu Museum of Art ($100 value), and his or her artwork is used to create the following month's event brochure and is posted on the museum's website.
Congratulations to this month's winner: Emma Zakahi, age 10, of Honolulu.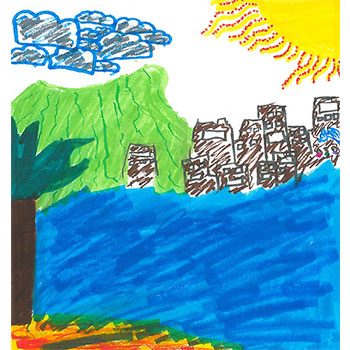 ---