Event:
Wheel World
Date:
May 21, 2017 11:00am-05:00pm
Location:
Honolulu Museum of Art
---
Event Information:
It's National Bike Month! Kids can ride balance bikes and make prints with Honolulu Printmakers. Join the Hawaii Bicycling League for a bike-matching game and jump the pedal power station to fuel the sound system.
ENTERTAINMENT
Mix and match: Kids can play a bicycle matching game and guess which bike is used for what activity.
Learning cycle: Talk story and get information from local bicycle groups, including City and County of Honolulu, Hawai'i Bicycling League, and Bikeshare Hawai'i.
Look Ma, no pedals: Ride a balance bike around in Palm Courtyard. These bikes are especially good for children 8 years or younger. Older kids can enjoy the bike rodeo at Spalding House.
Bike perk: Ride in style and park your bike outside the museum with a free bike valet.
ART ACTIVITIES
Make your mark: Make colorful prints with the Honolulu Printmakers.
FAMILY FILM SUNDAY
Cultural Animation Film Festival Program 2
A collection of short animated films from Aztec, Tuvaluan, Nigerian, Chamoru, Mexican, and Hawaiian cultures. Join us before and after each program with a meet and greet from local comic book artists and cultural content publishers.
Screenings: 11:10am + 1pm
Total runtime: 83 min. • FREE
DOUBLE THE FUN
Take a shuttle bus to the museum's free Family Day at Spalding House in Makiki Heights for more art and fun. The shuttle departs from the front of the museum.
DRAWING CONTEST
Open to kids age 1 to 17, the contest station features drawing supplies where participants create a drawing based on a theme.
The winner receives a Supporting Membership to the Honolulu Museum of Art ($100 value), and his or her artwork is used to create the following month's event brochure and is posted on the museum's website.
Congratulations to last month's winner!
Leonidas Awana, age 6, of Honolulu.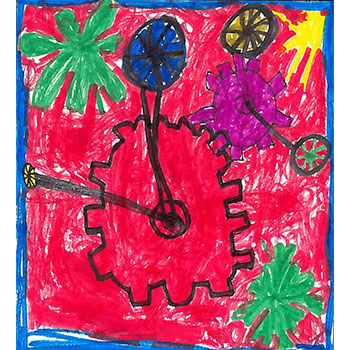 ---