Event:
Where Are We?
Date:
May 20, 2018 10:00am-04:30pm
Location:
Honolulu Museum of Art
---
Event Information:
Kids can experience the joys of two-wheeled travel!
Activities end at 2pm, but the museum remains open free of charge until 4:30pm.
ART ACTIVITIES
• Bike flags: Kids make vibrant bike flags—they look great and keep kids safe.
• Bikes in print: Members of the Honolulu Printmakers help kids make a book of maps and printed bike designs.
ENTERTAINMENT
Plan your route: Join members from the Hawaii Bicycling League to plan a safe biking route on a giant map.
On the straight and narrow: Beginners can take their first spins on balance bikes.
Guessing game: Kids can explore a range of different bikes—such as a tandem, cargo and beach cruiser—and guess what design is made for what.
Bike 411: Honolulu City and County and Biki staff will be on hand to share biking tips.
Bike Rodeo: Head across the street to Thomas Square Park to participate in a bike rodeo with members from Hawaii Bicycling League's Bike Ed Team.
FAMILY FILM SUNDAY
CAFF 2018 Program #4: 10:30am + 1pm. Free. The Sunday program brings together short animated films from Chinese, Hawaiian, Indian, Jamaican, Korean, Māori, and Native American cultures.
Interact with exhibits and vendors from Kottura, Mana Comics, Keiko Coding, Hawaii Women in Filmmaking, and Bess Press.
SUNDAY BRUNCH
Enjoy our full-service Sunday brunch menu at the Café from 11am-2pm. Reservations are recommended: 808-532-8734.
DOUBLE THE FUN
Take a shuttle bus to the museum's free Family Day at Spalding House in Makiki Heights for more art and fun.
DRAWING CONTEST
Open to kids age 1 to 17, the contest station features drawing supplies where participants create a drawing based on a theme.
The winner receives a Supporting Membership to the Honolulu Museum of Art ($100 value), and his or her artwork is used to create the following month's event brochure and is posted on the museum's website.
Congratulations to last month's winner, David Kildahl, from Kaka'ako!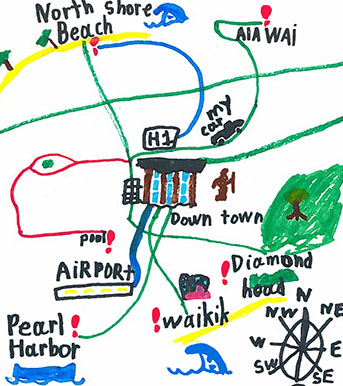 ---