Event:
Picture This
Date:
September 16, 2018 10:00am-04:30pm
Location:
Honolulu Museum of Art
---
Event Information:
Celebrate the art of photography at HoMA!
Activities end at 2pm, but the museum remains open free of charge until 4:30pm.
ART ACTIVITIES + ENTERTAINMENT
Photo Ops Hawaii: 10am-1:30pm. Head downstairs to the Education Lecture Hall and take a funny photo in the Photo Ops Hawaii photo booth! Then bring your photo upstairs and create your own custom frame. The photo booth will close promptly at 1:30pm.
Atis Puampai: 10am-2pm. Local artist Atis introduces keiki to different types of cameras and shares info about the technical side of photography.
Anna Callner: Noon-12:45pm. Join Anna in the Portrait Gallery for a performance of original, improvised, and composed works on the cello.
SUNDAY BRUNCH
Enjoy our full-service Sunday brunch menu at the Café from 11am-2pm. Reservations are recommended: 808-532-8734.
DOUBLE THE FUN
Take a shuttle bus to the museum's free Family Day at Spalding House in Makiki Heights for more art and fun.
DRAWING CONTEST
Open to kids age 1 to 17, the contest station features drawing supplies where participants create a drawing based on a theme.
The winner receives a Supporting Membership to the Honolulu Museum of Art ($100 value), and his or her artwork is used to create the following month's event brochure and is posted on the museum's website.
Congratulations to last month's winners: 'Ilikea, age 10, from Kapahulu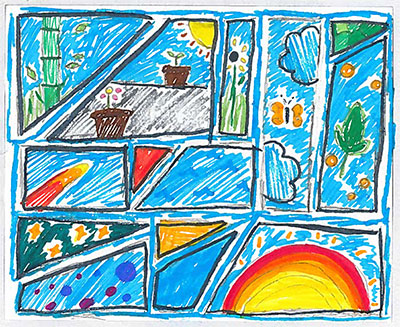 and Zoemi, age 10, from Makiki!
---