Event:
Happiest Holidays
Date:
December 16, 2018 10:00am-04:30pm
Location:
Honolulu Museum of Art
---
Event Information:
Celebrate the holidays at HoMA! Learn more about the Filipino holiday Pasko, decorate cookies and listen to live performances.
Activities end at 2pm, but the museum remains open free of charge until 4:30pm.
ART ACTIVITIES
• Cookie Decorating: A sweet and simple activity. Decorate a star shaped cookie with holiday sprinkles and frosting.
• Shining Stars: Kids can make a star-shaped ornament with pipe cleaners and beads. We will have plenty of supplies and encourage kids to make a star for a friend or family member, too!
• Celebrate Pasko: learn about the Filipino holiday of Pasko with members of the Filipino Association of University Women (FAUW). Kids can view colorful parols, star-shaped Christmas lanterns, on display and make their own with bamboo skewers and colorful paper.
ENTERTAINMENT
10-11am: Pacific Harp Project. Listen to live music inside the gallery
12-1pm: Hook and Line. Holiday folk tunes and singalongs.
SUNDAY BRUNCH
Enjoy our full-service Sunday brunch menu at the Café from 11am-2pm. Reservations are recommended: 808-532-8734.
DOUBLE THE FUN
Take a shuttle bus to the museum's free Family Day at Spalding House in Makiki Heights for more art and fun.
DRAWING CONTEST
Open to kids age 1 to 17, the contest station features drawing supplies where participants create a drawing based on a theme.
The winner receives a Supporting Membership to the Honolulu Museum of Art ($100 value), and his or her artwork is used to create the following month's event brochure and is posted on the museum's website.
Congratulations to last month's winner, Riki Kawamura, age 9, from Makiki!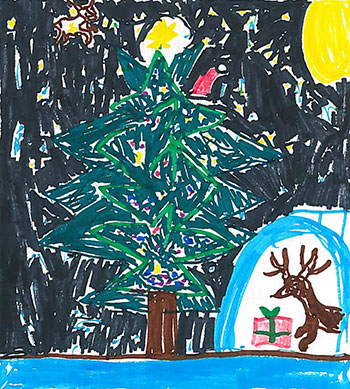 ---