June 15, 2014 11:00am-05:00pm
Honolulu Museum of Art
---
Bank of Hawaii Family Sunday event information
Join the museum and the Hawaii Bicycling League for a two-wheeled Father's Day!
Note: Activities end at 3pm.
Ride to Bank of Hawaii Family Sunday: We'll have a bike valet in our side parking lot on Victoria Street (between Beretania and Kīna'u streets), thanks to Hawaii Bicycling League!
EVENTS
• We have invited local bike builders to display their bikes as beautiful, functional works of art.

• To showcase how technology has led to cycling innovations that serve every rider, bike shops will display the range of bikes currently available.

• Inspired by bike celebrations in Europe, we will feature a participatory concert using bike bells.

• A coalition of the Hawaii Bicycling League, the Kalihi Valley Instructional Bike Exchange, and others will have displays that illustrate the relationship between cycling and the community, touching on the cycling renaissance current unfolding in cities around the world.

• Hawaii Bicycling League Bike Rodeo for kids!
ART ACTIVITIES
• Bike Bracelets: Kids can make bracelets from old bicycle tire inner tubes—they'll learn how to prepare and braid the rubber using some of the most puncture resistant bracelet technology available.
• Bike Prints: Honolulu Printmakers executive director Laura Smith leads kids in making and printing an image of a bike. Little artists then cut out the bike image and pin it to a map of O'ahu.
ENTERTAINMENT
• Hawai'i artist Mat Kubo returns from San Antonio for the summer and performs his conceptual piece No Talking, Just Typing.
FAMILY FILM SUNDAY
Reels on Wheels
45 mins. Ages 6+
Celebrate cycling with an international selection of inspiring short films from the Bike Shorts Film Festival Hawaii.
11:10am
$ 3 adults | $1 children (13 + under)
FAMILY DAY AT SPALDING HOUSE
Take the free shuttle from Honolulu Museum of Art for more activities and entertainment at our new Family Day at Spalding House in Makiki Heights.
DRAWING CONTEST
For kids (ages 1-17):
The museum gives contestants a theme and drawing supplies.
The winner receives a Supporting Membership to the Honolulu Museum of Art ($100 value), and his or her artwork is used to create the following month's event brochure and is posted on the museum's website.
For adults (age 18 and up):
The museum gives contestants a theme and drawing supplies.
The winner receives a gift certificate for a Lauhala and Lunch picnic for two at Spalding House ($35 value, good for six months from receipt).
Congratulations ot this month's winners!
Kids' contest: Joshua Fujinaka, 6, of Mililani: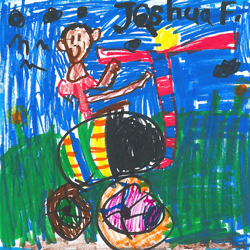 Adults' contest: Chelsie Takasaki, 22, of Honolulu: