July 20, 2014 11:00am-05:00pm
Honolulu Museum of Art
---
Bank of Hawaii Family Sunday event information
Note: activities end at 3pm.
ART ACTIVITIES
Give yourself a hand: See the exhibition Natural, Unnatural, Supernatural and then do a three-part activity to transform your appearance:
• First, you can craft a new pair of hands—choose from three different templates that you can customize.
-Cut, fold and paint new LEGO® hands.
-Layer and glue together felt, yarn and fake fur to make fuzzy bear paws.
-Stretch rubber gloves over a template for webbed flipper-like fingers.
• Second, mix and match different wearable animal parts to morph into a supernatural creature!
• Three—you have to go to Spalding House to make your transformation complete!
Gallery Hunt: Follow the map and discover great works of art!
ENTERTAINMENT
11-11:50am: The U.S. Air Force Band of the Pacific's jazz ensemble Papana plays a fine-tuned set.
noon-12:50pm: Dancer, actor, musician, and poet Willow Chang redefines storytelling with an eclectic theatrical performance.
1:30-2:30: Streetlight Cadence returns to the museum with their inimitable folk-pop-classical songs.
FAMILY FILM SUNDAY
Earthwise
$ 3 adults | $1 children (13 + under)
60 mins. | For ages 8+ | Films in Spanish, Mandarin, and French have subtitles. One film has a sad ending.
Nine beautiful shorts remind us that our planet is a precious place, filled with magnificent creatures and fragile ecosystems.
FAMILY DAY AT SPALDING HOUSE
Take the free shuttle from Honolulu Museum of Art for more activities and entertainment at our new Family Day at Spalding House in Makiki Heights.
DRAWING CONTEST
For kids (ages 1-17):
The museum gives contestants a theme and drawing supplies.
The winner receives a Supporting Membership to the Honolulu Museum of Art ($100 value), and his or her artwork is used to create the following month's event brochure and is posted on the museum's website.
Congratulations to this month's winners:
Kids' contest: James T., 16, of Honolulu: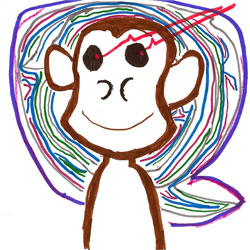 Adults' contest: Katsura Goldstein, 39, of Ewa Beach: