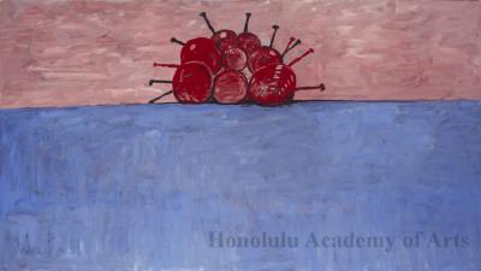 Object Title:
Cherries III
Date:
1976
Artist:
Philip Guston
Active:
American, 1913 - 1980
Medium:
Oil on canvas
Dimensions:
65 x 116 in. (165.1 x 294.6 cm)
Credit Line:
Gift of Musa Guston, 1992 (7008.1)
Object Number:
7008.1
Description:
Philip Guston was a leading practitioner of Abstract Expressionism in the 1950s and 1960s, but he disavowed his lyrical abstraction in the late 1960s in what critics have identified as a profound crisis of faith in the purity of esthetics and the efficacy of painting to transcend contemporary realities. An admirer of the German Expressionist Max Beckmann, Guston's late figurative paintings convey the violence of the world and the artist's uneasy role in it through cartoon-like imagery that stands as an allegory of the crudeness and brutality of modern life. While Cherries III is not explicitly figurative, the pile of fruit is equivalent to the groupings of severed limbs that typically populate Guston's paintings from this period, and it has connotations that are both sexual and spiritual. The cherries are monumental surrogates for the human figure, violently beleaguered by nails that suggest both martyrdom and sexual frustration. This symbolism comes from Renaissance painting, in which cherries represent the sweetness of virtue and the blood of Christ.
---