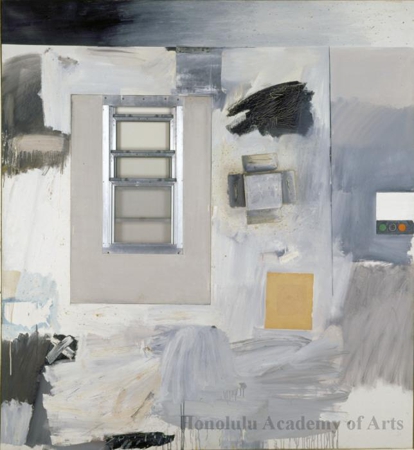 Object Title:
Trophy V (for Jasper Johns)
Date:
1962
Artist:
Robert Rauschenberg
Active:
American, 1925 - 2008
Medium:
Combine-painting on canvas
Dimensions:
78 x 72 in. (198.1 x 182.9 cm)
Credit Line:
Gift of Mr. and Mrs. Frederick R. Weisman in honor of James W. Foster, 1971 (4022.1)
Object Number:
4022.1
Description:
In the 1950s, Robert Rauschenberg pioneered the idea that painting should not be categorized as a purely two-dimensional art form, and he helped break the traditional boundaries between sculpture and painting by creating works that joined both, a form he called "Combines." Trophy V (for Jasper Johns) is an example of a Combine, composed of freely painted areas and three-dimensional objects either attached to or set into the canvas. By selecting banal objects from contemporary life, Rauschenberg demonstrated that ordinary entities are worthy of aesthetic consideration. Rauschenberg's use of recognizable subjects made him a transitional link, along with Jasper Johns, between Abstract Expressionism and Pop Art. The title of this work, Trophy V (for Jasper Johns), is a tribute to Rauschenberg's artist friend, with elements in the canvas-the characteristically "painted out" box, the variety of gray tones, and the small map of the United States-wittily alluding to the work of Johns.
---
---