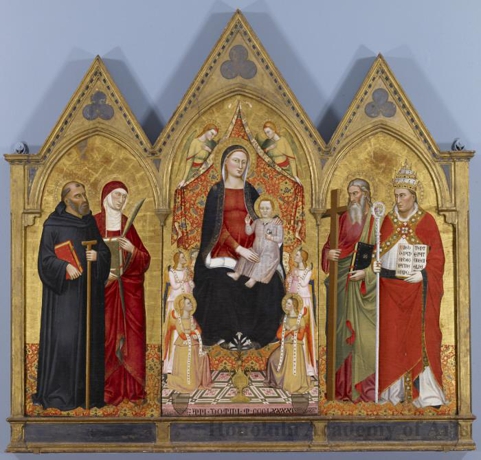 Object Title:
Madonna and Child with Saints
Date:
1391
Artist:
Jacopo di Cione
Active:
Italian, active 1365 - 1398
Medium:
Tempera, gilding on panel
Dimensions:
76 1/2 x 81 x 4 3/4 in. (194.3 x 205.7 x 12.1 cm) Center panel: 53 3/4 x 27 in. (136.5 x 68.6 cm) Side panels: 49 x 24 in. (124.5 x 61 cm)
Credit Line:
Gift of Anna Rice Cooke, 1928 (2834)
Object Number:
2834
Description:
In this devotional painting of the Virgin Mary and Christ enthroned, Mary is depicted as the Mother of God, a common theme in Christian art. Christ, although the size of a child, seems to embody the entire Trinity, a concept corroborated by the goldfinch, the symbol of his Passion, in his left hand, and the blessing gesture of his right hand. Jacopo di Cione was deeply influenced by the advances in pictorial naturalism of other Italian artists such as Giotto and Duccio. He attempted to create a sense of linear perspective, particularly along the floor tiles of the central panel, and suggest the mass and volume of the figures through the delicate tonal modeling of their faces and robes.
---